The Most Beautiful Box Braids Hairstyles for Your Wedding Day
Are you ready for the biggest day of your life? Do you need a signature look that will wow your groom, family, and friends? Then, we've got just the thing! Box braids are an amazing bridal style that is stylish, low-maintenance, and incredibly elegant. So box braids offer endless possibilities whether you're looking for a classic wedding hairstyle with subtle flair or something more bohemian and exotic. In this blog post, we'll show you some stunning traditional looks and modern ideas to help ensure that your wedding day look is unique and beautiful. So buckle up—it's time to get inspired by these glamorous box-braid bridal hairstyles!
Box braids wedding hairstyles for the stylish bride
When the time comes for you to walk down the aisle, you want to look your best. Box braids can offer a unique and stylish option for brides looking to stand out on their special day. Box braid wedding hairstyles are versatile enough to be dressed up or down depending on how formal or casual you'd like your look to be.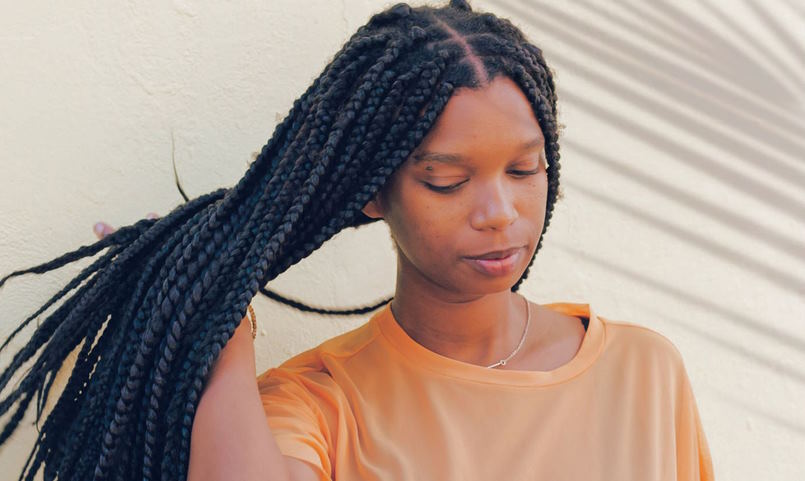 Opt for a classic french braid with box braids cascading over one shoulder for an elegant yet simple look. You could also choose a more intricate style, such as a fishtail braid pulled into an updo with sleek box braids framing your face. Side-swept box braids can create a romantic, bohemian feel and look stunning when paired with a flower crown. An easier look to achieve is simply wearing your box braids down and straight, giving you a timeless, elegant vibe.
No matter what wedding hairstyle you choose for your big day, accessorize it with some small touches like hair pins or flowers. With the right styling products and techniques, you can create the perfect box-braid wedding hairstyle that compliments your dress and ensure all eyes are on you as you walk down the aisle!
Create romantic bridal box braids in easy steps
Start by washing and conditioning your hair, then blow it out until completely dry.
Separate the hair into four sections and begin to braid each section tightly. Secure the end of each braid with a small elastic band or clear clip.
Once all the braids are complete, use an edge tamer like Eco Styler Gel to neaten up any stray hairs around your face and the edges of your box braids.
Now that all the hard work is done, you can style! Take two sections of one side of the head and tie them together in a half-up ponytail using a small elastic band or ribbon for added romance.
Take one of the braids on the opposite side and wrap it towards the ponytail securing it with bobby pins. Do this for each side, creating a symmetrical pattern to complete your romantic bridal box braids!