Bridal Beauty Disovered: Amazing Hairstyles Pinned To The Side For Your Big Day
Your wedding day is the biggest day of your life and you want to look your absolute best from head to toe, but amidst all the other wedding planning tasks, ensuring you have figured out an amazing hairstyle can easily slip through the cracks if left unchecked. While classic updos are fashionable and traditional choices for brides-to-be, much like everything else in life there's something special about few degrees of difference that makes a transformative impact. If you're looking for something different – yet still timelessly romantic – consider pinning aside various stunning looks that will make heads turn as you walk down the aisle! Learn more about how to create these gorgeous modern twists on the tradition by reading on.
Get inspired with these stunning pinned-to-the-side bridal hairstyles
From classic to romantic, these hairstyles are perfect for every bride.
Create an updo with a modern twist by standing out from the crowd with a pinned-to-the-side look. It's the perfect way to show off your beautiful face and make a statement at the same time. Whether you've got long locks or short, there is something here for everyone.
Start by creating loose curls with heated rollers or a curling wand. Brush through your hair and create two sections by parting it down the middle of your head. Gather one section of hair in an elastic band at the back of your head and leave the other side flowing loose. Take some bobby pins and pin small sections of the side-swept hair to the side. To create a polished look, mist with hairspray and you're ready to go!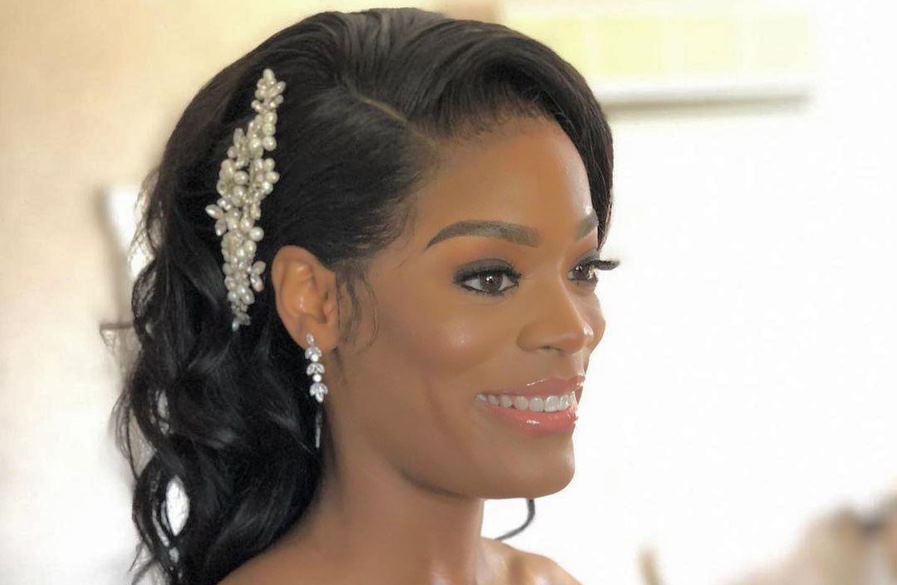 For a more romantic look, try a side-swept half updo. Part your hair down the middle or off-center, depending on your preference. Tease the crown for volume before taking the back section of your hair and securing it in an elastic band at the nape of your neck. Pin some strands from each side around the bun for a whimsical finish.
If you want something truly unique and eye-catching, try combining two pinned hairstyles. Gather one section of your hair into an updo at the top of your head and take another section at the back to create an elegant chignon. Take the remaining hair and pin it to the side, sweeping it over your forehead for a beautiful touch.
No matter what kind of bridal look you're going for, there's something here for you! Try out one of these pinned-to-the-side hairstyles and look stunning on your wedding day. Be sure to take plenty of pictures so you can cherish this moment forever.
The soft and romantic look of bridal hairstyles pinned to the side
It is a great choice for brides who want to show off their neckline, add volume to their hair and make a statement. This style can be achieved by using a curling iron, teasing comb or hot rollers to create romantic curls, then pinning the strands on one side of your head. You can add an accessory like a rhinestone barrette or pearl-studded clips for extra glamour. To complete the look, use plenty of hairspray so your hairstyle will last through the wedding day. With this simple yet sophisticated style, you'll be sure to turn heads as you walk down the aisle!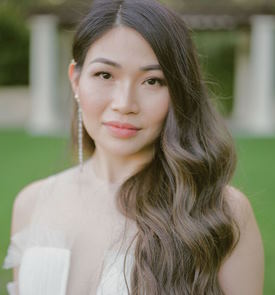 Try a sleek and chic side-swept hairstyle for those looking for something a bit more modern. To get the look, use a flat iron to smooth down the hair, then create a deep side part and sweep your strands over one shoulder. Teasing combs can be used to add volume and depth to this style as well. Finally, add some shine spray or serum for added glossiness, and secure with bobby pins if necessary. This romantic yet contemporary look is ideal for brides who want to keep it minimal yet still make an impact on their special day!
And for those brides who crave something truly unique, why not try out an elaborate up-do? An intricate braided bun or chignon can really take your wedding hairstyle to the next level. To create this look, use a curling iron to give your hair some texture and add curls or waves. Then, carefully twist sections of your hair into intricate braids and pin them up in an updo at the back of your head. Finish off with hairspray for extra hold, and you'll be sure to have a hairstyle that will stay put throughout the entire day!
No matter which style you choose, bridal hairstyles pinned to the side are an elegant addition to any wedding look. Whether a soft romantic curl or a sleek side-swept strand, these styles will make you feel beautiful and confident on your special day. So don't be afraid to get creative and experiment with different styles – you're sure to find the perfect hairstyle that will make your big day even more memorable!