The Perfect Sun-Kissed Makeup Tutorial For Your Wedding Day
Your wedding day is one of the most special days of your life, and you want to look and feel beautiful as you walk down the aisle. With all eyes on you, ensuring your makeup looks flawless is important. If you've always dreamed of having a sunkissed look for your big day, this makeup tutorial is exactly what you need! No matter which skin tone or style you prefer, these tips will help ensure your bridal beauty shines through. From achieving that ethereal glow on your face to knowing the right colors for defining those attractive features – we have all the advice and tricks needed to get ready for an unforgettable glimpse when exchanging vows with the love of your life. Read ahead for more!
How to create a flawless sunkissed makeup look for your wedding day
The key to achieving a flawless sunkissed makeup look for your wedding day is to start with the right base. Start by prepping and priming your skin with the right products. Use an oil-free moisturizer to hydrate and nourish your skin, and follow up with a primer that blurs imperfections, minimizes pores, and helps makeup last all day.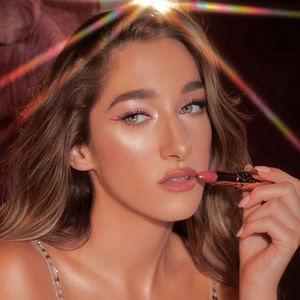 Once your face is prepped, it's time to pick out foundation and concealer that match your skin tone perfectly. Choose between liquid or powder foundation, depending on which one works best for you. Ensure you blend the product well so no harsh lines or streaks of color are visible on your face. Then use a good quality concealer to cover any acne, dark circles, blemishes or other imperfections.
Opt for warm bronzed tones on the eyes and cheeks for your sunkissed look. Start by applying a light champagne shade all over the lid and then layer with a darker brown shade in the crease of your eye. Next, use a fluffy brush to blend out harsh lines between colors and add some highlighter along your browbone and inner corners of your eyes to make them pop. Then finish off with mascara, and don't forget to fill in your eyebrows!
You can use either a bronzing powder or blush on your cheeks, depending on what suits you best. To accentuate the apples of your cheeks, sweep a natural blush shade across the cheekbones for a subtle flush of color. Complete your look with a warm bronzing powder that adds depth and warmth to the face.
Finally, add some definition to your lips by using a lip liner one or two shades darker than your natural lip color. Then apply lipstick in either brown or tan tones for an effortlessly sunkissed look. For extra shine, line and fill in your lips with a matching gloss before heading down the aisle!
Look radiant on your big day with wedding sunkissed makeup
From the perfect base to eye-catching contours and lips, here are some ideas for achieving a beautiful sunkissed makeup look that will turn heads.
Start with a primer or foundation that will give your skin an even, luminous glow without being too heavy. Next, look for formulas containing light-diffusing particles or SPF protection to keep your skin healthy and vibrant all day. Finally, use a bronzer on areas of your face where the sun would naturally hit – like along the cheekbones, forehead, nose bridge, and chin – for a subtle sunkissed effect.

To add dimension to your makeup look, use a blush in shades of peach or coral to enhance the warmth of your skin tone. Then, apply it to the apples of your cheeks and blend outwards for a natural, rosy hue.
For your eyes, apply an eyeshadow primer to create a smooth, even base for your look. Then use an earthy bronzy shade in the crease of your eye and along the lower lash line for a bronze smokey effect. Follow up with mascara and false lashes if desired for added drama.
Finally, finish off with a lip color that complements your skin tone – nude or pink shades work nicely. Opt for gold and copper-toned glosses or lipsticks if you have warmer tones. For extra definition, use a lip liner slightly darker than your chosen lipstick to define the edges of your lips.
With these tips, you will surely look like a sunkissed goddess on your special day! So enjoy your sunkissed makeup and have fun experimenting with different looks until you find one that makes you feel beautiful and confident.