Creating the Perfect Festival Themed Wedding – Ideas & Inspiration
Are you looking for some new and exciting ways to create a memorable festival themed wedding but don't know where to start? Look no further! From vibrant colors, quirky decorations and music that will get your guests up dancing on the dancefloor, we have put together all of the tips and tricks needed to make sure your special day truly stands out. So whether you plan on having an outdoor celebration amongst nature or bringing the spirit of a summer music festival indoors – this blog post provides all the ideas and inspiration needed to create the perfect festival-themed wedding. Let's start by first understanding how festivals are presented and how these key elements can be transitioned into creating an unforgettable experience at your special day.
Plan the perfect festival-themed wedding for unforgettable memories
Festival-themed weddings are a great way to create beautiful and memorable memories. From a whimsical music festival to a vintage carnival, you can personalize your wedding day with elements that reflect your own style and personality.
Start by choosing the perfect venue for your festival-themed wedding. This could be an outdoor space such as a park or garden or even an indoor venue such as a museum or art gallery. Make sure there is plenty of room for guests to move around and explore the different activities on offer.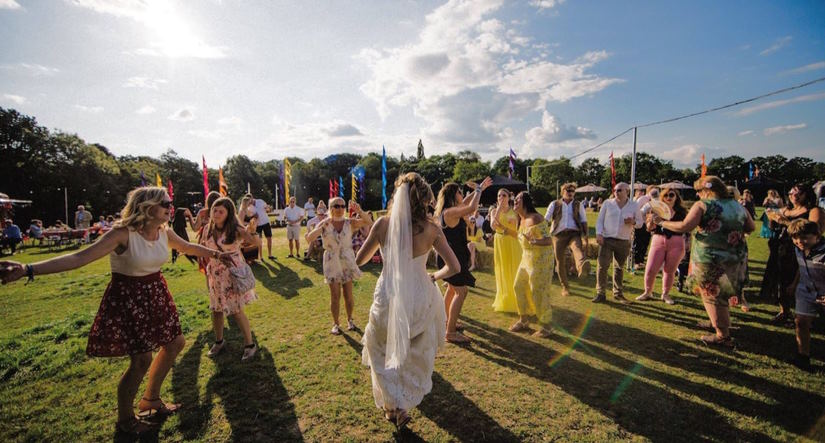 Create a unique atmosphere using decorations that suit the theme of your wedding day. Think colorful banners, balloons, streamers and other fun decorative touches that will get everyone in the mood to celebrate. Incorporate live music, entertainment and activities like a photo booth, bouncy castle and face painting to keep everyone entertained.
Choose a delicious menu that reflects your theme. This could include sliders, tacos, pizzas or even an ice cream stand if it's hot outside! Ensure you provide various drinks, including signature cocktails and craft beers.
Finally, don't forget the wedding favors. These will help your guests remember the day long after it's over. Consider giving them items such as sunglasses, paper fans or flower crowns to take home and cherish forever. With these tips in mind, you'll be sure to create an unforgettable festival-themed wedding.
Get creative and throw the perfect festival-themed wedding!
Have a step and repeat banner in the entrance with your names on it. Put up colorful decorations like balloons, streamers, banners, and flags that represent the festival you're trying to recreate. Arrange for food catered by local food vendors, or set up a taco bar with all of your favorite foods. Hire a DJ or band to play music from your chosen genre. You can even have a photobooth with props for guests to take fun pictures! At the end of the night, give out party favors that reflect the festival theme, such as sunglasses, hats, and glow sticks. Your wedding will be truly unforgettable if you throw an amazing festival-themed event!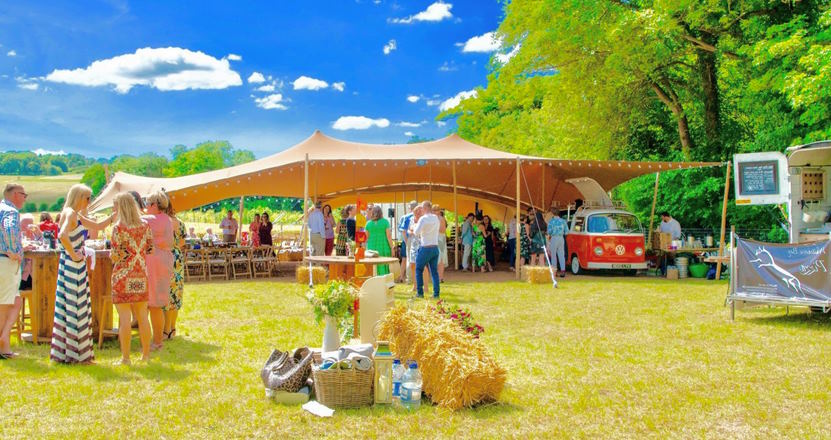 Make sure to plan some outdoor activities for guests to enjoy, like a mini-golf course, lawn games, or even vintage carnival rides. Have drinks bars set up outside with signature cocktails in creative jugs and boxes. Set up fun photo booths throughout the grounds that are decorated according to your theme. Guests can take pictures posing with props and the backdrop of your choosing. Finally, end the night on a high note with a grand fireworks show!
No matter what festival-themed wedding you decide on, make sure it's something special and unique that will leave your guests wanting more! Then, have fun planning and creating an unforgettable experience that all of your family and friends can enjoy together.