Elevate Your Style with These Tips for Achieving the Perfect Balance in Your Wedding Look
Do you want to stand out from the crowd and add a touch of sophistication to your look? If so, then achieving the perfect balance between smart and casual is key. With the right dose of creativity and a careful selection of clothing pieces, you can create chic and comfortable outfits – no matter where you're headed in life! Read on for tips on elevating your style with impeccable fashion principles such as tailoring, texturing, layering and accessorizing. Whether you prefer vibrant, muted hues or all-black ensembles for a signature minimalistic style, these timeless wardrobe suggestions will help upgrade any look!
Creating a balanced look for your wedding day
You'll want to select a dress that has the right length and silhouette for your body type and be sure to accessorize accordingly. From veils and tiaras to jewelry and combs, plenty of options exist to help you customize your look.
When it comes to makeup, choosing colors that will enhance your features while still looking natural and timeless is important. Whether you opt for a classic smokey eye or something more subtle, there is no shortage of ways to make your look stand out without being too over-the-top. Don't forget about hairstyle either! A romantic updo can pull the whole ensemble together or you could try an elegant half-up, half-down style.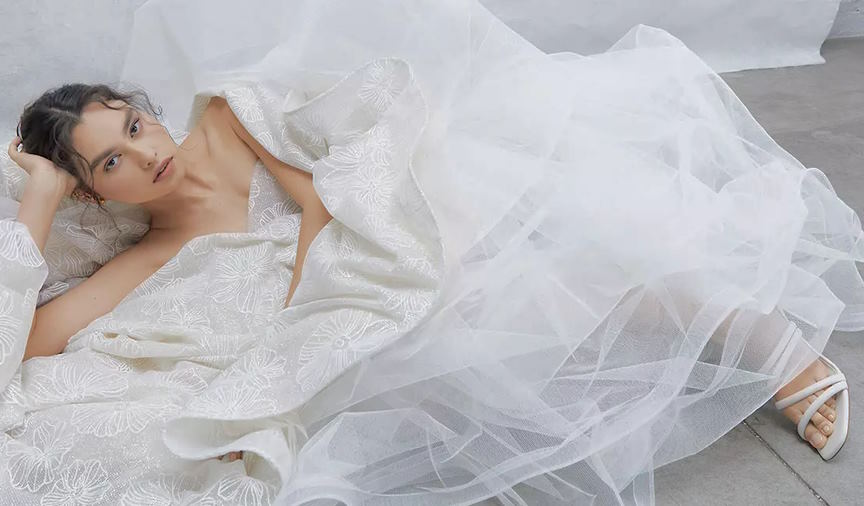 Finally, take into account the color palette of your wedding day. If you're going for a more traditional look, opt for shades like white, ivory, and champagne. For a more modern feel, you could add in touches of blush pink and peach or incorporate bolder colors like red or navy blue. Don't be afraid to mix and match different pieces to create something unique that reflects your personal style! With a little planning and creativity, you'll find the perfect balance between timelessness and originality on your big day.
An important factor when it comes to choosing bridal attire is comfort—you want to make sure you can move and dance with ease! Choose lightweight and breathable fabrics, and if your dress has a long train, be sure to secure it with bustles or have some hook in place so that it doesn't drag on the floor. When it comes to accessories like veils and tiaras, try on several options before deciding which one will best suit your style and dress.
No matter what you choose for your wedding day look, remember that this is your special day—so make sure to express yourself in ways that feel true to who you are! With the right balance of timelessness and individuality, you can create a bridal look that perfectly reflects the unique bond between two people in love. Enjoy these memories for a lifetime!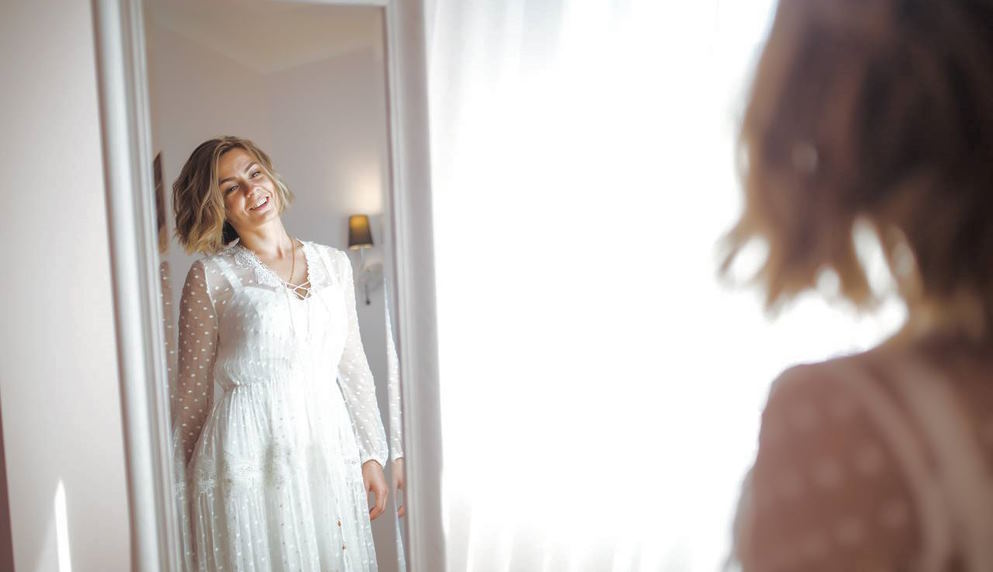 The perfect balance between comfort and elegance in your wedding look
With so many options available, deciding which dress is right for you can be hard. As a bride, you want to look stunning and feel confident on your special day, so choosing the perfect designer wedding gown that flatters your figure and complements your style is important. Whether you're looking for a classic ball gown silhouette or something more modern and fashion-forward, there are plenty of designer bridal dresses to choose from. Look for details like intricate lace appliques and elegant ruching that will make your wedding gown stand out and show off your unique style. And if you're still not sure what type of dress is right for you, take some time to browse various collections and designers until you find the perfect dress for your big day. With the right designer wedding gown, you'll look and feel beautiful as you walk down the aisle on your special day.
With so many choices available, it's also important to think about accessories when choosing a designer wedding dress. You can use various pieces such as jewelry, veils, headpieces, sashes, boleros and more to complete your bridal look. In addition, consider wearing a statement necklace or an elaborate hair accessory for an extra touch of glamour. And if you don't want to go too bold with accessories, consider subtle details like embroidery or beading that will still add visual interest to your ensemble. Keep in mind that picking the right designer wedding dress is all about finding the perfect balance between comfort and elegance. You'll look and feel your best on your big day with the right gown, accessories, and styling tips.